Another great and useful feature which one or two didn't recognize yet are Conditional Order Jumps. They are not available in OpenTTD 0.6.3 but if you are playing with recent nightly builds you should definitely use their advantages. As the name says you can use these special entries in the list to jump to a certain order.
Lets get an overview about the usage first and therefor we start with the types of conditions.


Condition Types
Load percentage > Integer
Reliability > Integer
Maximum Speed > Integer
Vehicle age (years) > Integer
Requires service > Boolean
Always
Integers can have the following options: equal (=), not equal (!=), less than (<), less or equal to (<=), more than (>), more or equal to (>=).
Boolean: is true, is false
Hint: Always means always jumping.
Usage
Instead of Go To click the drop down button and choose Conditional Order Jump. Now you have to choose the order you want to jump to. Inserting an Order Jump into the list is as easy as inserting a regular order. Just click the order before which you want to insert the new one and it'll happen. After inserting the order choose the type of condition and adjust it to your needs until it fits.
Complex System
The Improved S-Bahn Concept
This is a heavy one. We always had the problem with S-Bahn loops and bad ratings at station too close to the transfer drop because the trains were fully loaded. In ancient times they even stopped at these stations and and fully unloaded and reloaded. This is a waste of time and causes bad ratings at stations and many waiting passengers which were not transfered to the Central Stations. Here comes my idea into play. Every S-Bahn stations has its own by-pass and after every Go To Next S-Bahn Station a Conditional Order Jump proves whether it makes sense to enter the next S-Bahn Station (i.e. not fully loaded) or directly go to the Central Station.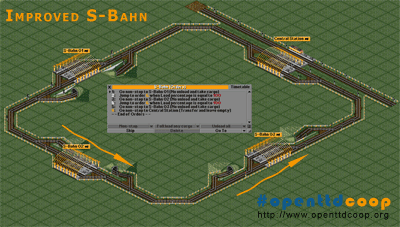 Basic example of the Improved S-Bahn Concept
Speed Switchers
Tonight we talked about how sweet it would be to have switchers sorting trains by speed to ease up the handling of trains with different speeds in the same network. One possible solution could be the usage of Conditional Order Jumps. It would be possible to add orders according to the max speed of a train and e.g. jump to a certain waypoint for a track with common speeds. I am not sure how and if it works but it could make some things easier for us.
Last But not Least… a video