I thought it is time for some more tricks and tips when playing OpenTTD. All of us use diagonal tiles when building train tracks. Of course, they are important. But you should know for sure that one diagonal tile has not the same length as a vertical/horizontal tile. This comes into play in a couple of situations.
First of all let's have a look at the basics.

This video shows the difference between diagonal and straight tracks. Both trains start at the same time and in the end you can see there is almost one tile difference between them. (Tip: Fullscreen mode has a better quality)

A critical Example:
You could say: "This is nice, but who cares?". Well, I do. The way I constructed the test track is used quite often, i.e. for tunnels or bridges. They are longer than our common signal length and to make sure trains don't stop we often need two (or more) tunnels to ensure not having any jams.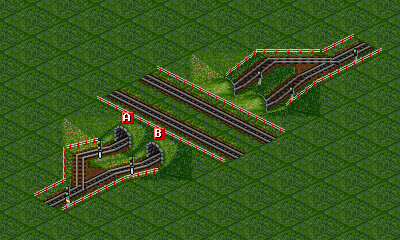 This tunnel construction is always a risk for this kind of ghost jams. This can happen really easy. Imagine a train using tunnel A because B was blocked before. The gap to the next train is really small. This one will use tunnel A again. The train using tunnel A has a longer way to leave the tunnel again (in fact 1 tile). This 'can' cause jams if the trains are very good balanced and the gaps between them are very small.
The Solution:
… is kinda easy. Just have a look at this picture.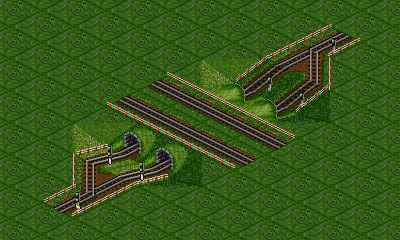 This shows you how sensitive all the constructions are and one should really know what you are doing. Indeed, I have to admit, this is really detailed knowledge for advanced players, but they should always keep it in mind.