Our lovely member Progman did it! A config tool for a easy way to set our start options, no thinking about diff_options anymore.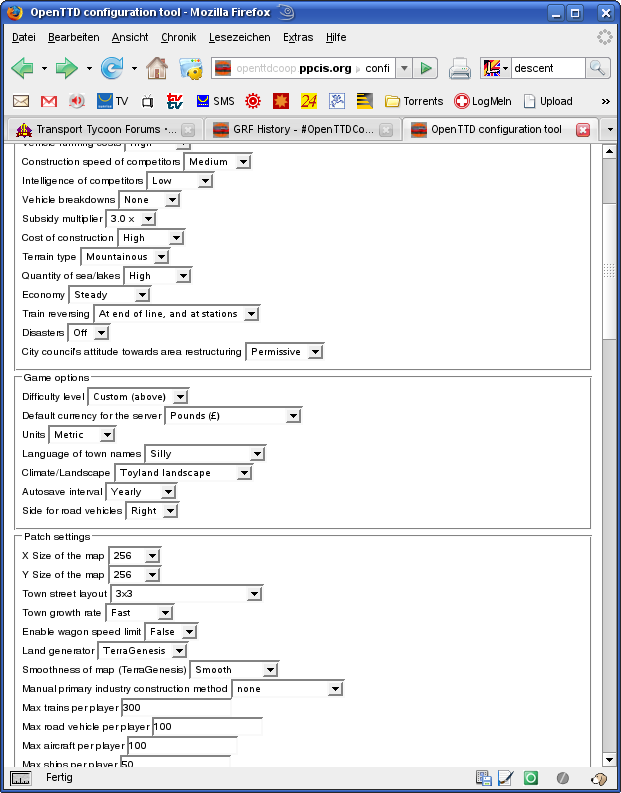 Because the NewGRFs will also be managed over this tool, we need a new system for saving our GRFs, they need to have the right orders. Trainsets have to be after narrow gauge track i.e. etc.
So we get rid of the sets folders and introduced the categories from GRF Crawler, in the same time we also updated some GRFs and included new ones:
total restructuring of file system (categories of GRF Crawler)
updating:

US Set v0.87.1
Aviators Aircraft (av8) v1.331
Narrow Gauge rails v0.92
Serbian rail set (standard gauge) 2007-08-09
Canadian Stations Set v0.3b
Thgergos Cantilever to non-static

new

Thgergo's New Cantilever
Dutch station set (preview)
NewShips Mod v2 / Airmod v1.0
Generic Tram Set v0.32
CSTramSet v0.1
Modern Tram Set 2007-08-30
New Tram Tracks v0.3
Combined Roadset v0.10
North American Roads Set v0.5a
Industrial Stations Renewal (preview 07-08-27)
pb_bridge and pb_build (modify prices)
NewMonorailMrHunt
Serbian narrow gauge rail set
Foundations replacement
After that, we can say, that is an other big Update, not only of GRFs also of the whole pack, the new small KGB compress format is removed, because it took too long to make and to unpack for you. Because of the whole restructuring of the pack, we don't provide a update pack this time. You have to download the whole pack and replace it with the old one. (remove old pack first). As usually the beta is downwards compatible with servers, where still running with old grfs, so you can upgrade just now, we will make a update pack for the final release, if needed.
Now, enjoy the new pack. (The admins will also enjoy the config tool 🙂