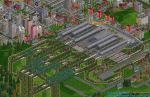 We all know terminus stations and we try to avoid them, because they are poorly slow. They are not able to cope with higher amounts of trains and start jamming faster than Bermuda Hubs. At our current Member Zone game (a.k.a. WD2) I built a larger Station for express traffic in an area with a lot of problems. There was no place for a proper exit and a too big station is not good for a city area. I decided to built a terminus station and developed a new concept, which is able to cope with a much higher amount of trains than a generic terminus station and a lot of smaller than a roll-on-roll-off station (RoRo). Now lets have a look at the details.

The Basic Idea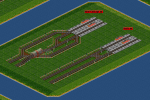 First of all I want to show you how the basics of this concept work in an easy example. Conventional terminus stations mostly have one entrance and one exit for two platforms. There is not enough space to provide an entrance and an exit with the basic concept and especially if stations have more than 4-6 platforms this is a real problem.
Lets bring this to a formula: A station with 6 platforms can only handle 3 trains entering+leaving at the same time because two platforms are shared. This is an efficiency of 25% compared with a 6-platform-RoRo. Don't wonder why they jam anymore.
That's the point I want to make more efficient. Every platform has its own entering and leaving track. Its not necessary to share platforms anymore. The picture shows you how I did this in a very easy way. The shared track for one platform is very small (only one tile, that's almost RoRo-like) and one-way signals ensure trains using the correct track instead of bottlenecking the station. Well, the entrance has the double size of the basic idea, but it is 3-4 times more effective.
In other words: A station with six platforms can handle six trains at the same time entering and six leaving the station, maybe this one shared tile makes it a bit less effective than a 6-platform-RoRo but I bet efficiency is almost 90% compared with a RoRo station.
From Theory to Practice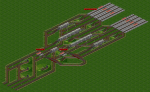 The basic version was in fact really small and easy to realise. But 4-6 platforms are in most cases (and in openttdcoop games) not enough. Therefor I created a version with eight platforms which is only 50% wider (8 platforms;entrance width 12 tiles) than stations with the basic concept (8 platforms;entrance width 8 tiles).
I used another trick here, bridges over tunnels (only possible with latest nightly builds, not 0.5.x). It guarantees more space and trains use three levels for entering and leaving the station.
When you start building the station in the middle (four platforms at the left and right) MUST be a gap of two tiles for two exit-tracks. Afterwards you should built the tunnels and leave space for the bridges. Then you can add all the tracks and signals you need. You can decide between a variable two-track (like in the picture) or an easy one-track entrance. The exit lines after the shared track should be long enough for one train, depending on the train length you use. If the track is to short, a leaving train could still block a shared track or even a platform. Then its not as effective as it should be. Anyway, waiting space is another very basic thing you should take care of when building stations. The exits are as variable as the entrances. When everything is done and checked, add the bridges.
Finally you can add trains and bring the station under load. In my opinion it looks a bit like 'The Settlers' when three trains are over each other.
Summary
Pro's:
can handle almost as much trains as a similar RoRo-Station
no separate exit behind the station
much shorter than RoRo-Stations
useful in area's where its difficult to build (big city areas, islands, very mountainous regions)
very easy extendable
Con's:
50% wider than RoRo-Stations
a gap of two tiles every 4 platforms (could be used for local/SBahn terminus station though)
quite difficult to build
If you want to see the new terminus station concept in action, join the Member Zone and look at HFB or ANB Central Station.