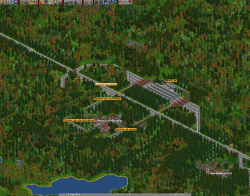 Menway-on-sea is a small town, a sleeping beauty in the deep forests of the nation. In the year 1965, this situation suddenly changed: executives of the grand national rail company "Kasimasi Transports" decided to connect the town to the newly invented Shinkhansen Network, a highspeed train network for passenger transport only.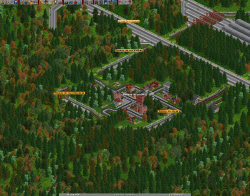 As you may imagine, local authorities were not amused about Kasimasi Transports' proposal. Both sides agreed on a clause about noise barriers, afforestation and environmental efforts carried out by the train company. As you may see on this aerial photo, Menway-on-sea received both a highly efficient commuter system and a link to the nationwide high-speed-train network.
You may Leave a comment or Subscribe to Comments RSS or Trackback this entry.
Leave
a comment
Please be polite and on topic. Your email-address will never be published.