Dear folks,
some of you may remember the long forgotten #openttdcoop scenario quest competition (osqc). We tried but failed to gather the judgings of more than two people (Mark and myself) on the 8 final submissions to the contest. A far bigger number of people actually played that map back in early 2008, though.
A complete description of the task and the initial map supplied to the participants can be found here. A quick recap is this image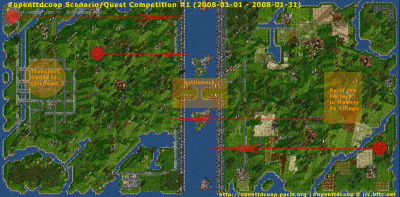 Both Mark and myself came to the exact same order of ranking for the players, so finally, the winner is


1 . Shader


A very close 2nd place was taken by

2. Tim

, followed by
tneo
Pikita
Doke
Fragster
Wookie
Thank you for your participation, you all did play a great game and it was fun to look through the games and see the different solutions to the problems posed 🙂 A zip archive of all submissions can be found here, the detailed evaluations are found in this OpenOffice spreadsheet. The submission of Sedontane couldn't be evaluated unfortunately as it was prepared with a patched version of OpenTTD which couldn't be opened easily.
A few highlights
The biggest challange was to bottleneck in the middle of the map where much traffic had to pass through. The best solutions resorted to a three-level approach like Shader applied: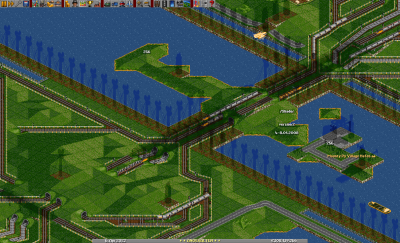 which was necessary, given the sizes of the towns: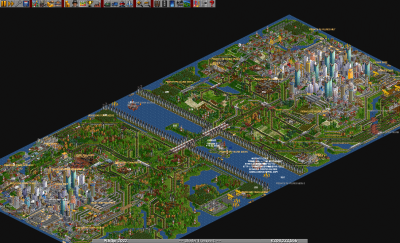 Worth mentioning is also the different solutions on how to cope with the breakdowns which were enabled. A nice looking and efficient solutions was built by tneo:

All trains coming from the factory to the right had to pass through this service center so that they could enter the bottleneck area freshly serviced.
Remarkable is also how Shader maintains a good rating at his factory. Especially look at train #34 and the distance it travels 🙂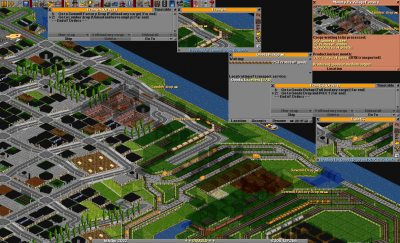 The station is integrated with the saw mill which receives wood both by ship and by train. Goods are transported (as required by the scenario) over the gap to the other side.
Stay tuned for an upcoming 2nd event of this type 🙂